About Global Cyberlympics
Global CyberLympics is an international online cyber security competition, dedicated to finding the top computer network defense teams. This event tests the skills of information assurance professionals in teams of 4 to 6 people in the areas of ethical hacking, computer network defense and computer forensics. Each round serves as an elimination round until only winning teams remain. The top winning teams from every continent get invited to play the game live in person at the world finals.
Global CyberLympics aspires to create an opportunity for ethical hacking to be accepted, practiced and demonstrated without any discrimination, across all geographical boundaries – for the purpose of understanding what it takes to protect and secure critical information and assets. One key initiative for Global CyberLympics is to foster an environment that creates child online protection through education.
The map above shows all of the countries that have participated in Global Cyberlympics since its inception.
I. Capacity Building:
We hope to discover new talents, methods and ideas; and to encourage development in the field of information security. It is our hope that besides discovering gifted hackers and cyber-defenders, the CyberLympics will inspire the development of Information security professionals of the future.
II. Raising Awareness:
We hope to educate the global community, especially in developing nations and third world countries on the issues of Information security, and encourage further development of the field. We hope the Games will raise awareness towards increased education and ethics in information security.
III. Global Peace:
We hope to foster friendship and create cohesiveness between information security professionals, whether as an individual, representing a corporation or for a national agency, and encourage frequent exchange of essential information, technology and skills through the games.
IV. Child Online Protection:
Through supporting partners and raising awareness, we can foster an environment that creates child online protection through education.
About EC-Council Foundation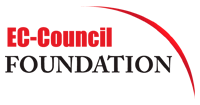 The EC-Council Foundation is a charitable and educational organization dedicated to educating and training individuals in security skills.
The EC-Council Foundation was established in 2012 by the founders of the International Council of E-Commerce Consultants (EC-Council). The International Council of E-Commerce Consultants (EC-Council) a member-based organization that certifies individuals in e-business and information security skills. It is the owner and creator of the world famous Certified Ethical Hacker (CEH), Computer Hacking Forensics Investigator (CHFI), EC-Council Certified Security Analyst (ECSA), Licensed Penetration Tester (LPT), and numerous others that are offered in over 87 countries through more than 450 training partners globally. EC-Council has trained over 90,000 individuals and certified more than 40,000 security professionals.
The Foundation was set up as a not-for-profit initiative by the founders of EC-Council to raise awareness, build capacity across nations, and ultimately promote global peace while ensuring the global community becomes more aware for the immediate need of online child protection. One key initiative of the foundation is Global CyberLympics; a unifying body for Global Cyber Defense. Global CyberLympics is a series of cuber security related competitions including: Forensics, Penetration Testing, Computer Network Defense, and Capture the Flag. The Foundation also supports select international high school, collegiate and professional cyber competitions. EC-Council Foundation's mission is to foster collaboration and participation by Global Digital Citizens to become advocates for safe secure on-line activities, and foster online child protection through education.